Massage Services Offered:
Therapeutic Massage Helps With...
Chronic Pain, Headaches, Lower Back Pain, Upper Back,
Neck Pain, Fibromyalgia, Stress & Tension Relief,
Migraines, TMJ, Relaxation & Calmness, Depression,
Circulation, Accident Rehabilitation, Post-Op Rehab,
High Blood Pressure, Range of Motion, Immune System,
Insomnia, Sports Injury, Poor Posture, Allergies,
Anxiety, Carpal Tunnel Syndrome, Joint Injury,
Elderly / Geriatric, Homebound, Sciatica



Natural Products for Personal Care, the Home, and More - Mountainside-Diversified.Com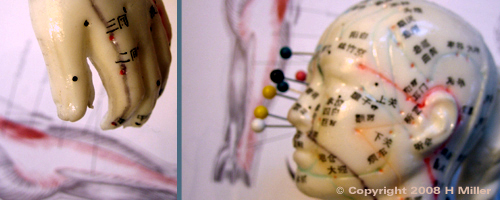 Massage Abstracts / Studies
Index of Scientific Studies proving the efficacy
and effectiveness of Therapeutic Massage
as a healing modality.
Massage Debunkers Debunked!
Some skeptics attempt to debunk
Massage Therapy as a effective treatment.
Here such arguments are addressed.


Advertisement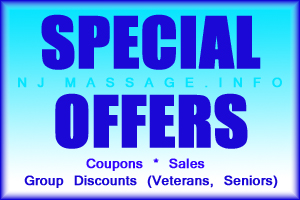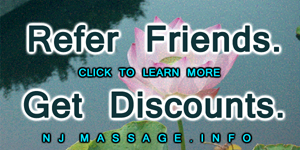 At Home Massage
At Home Massage At Your Location in New Jersey and New York City
In our high-speed, fast-paced digitized world, At Home Massage is a great way to de-stress. Of course, Therapeutic Massage, no matter where it is practiced, can be a great means of alleviating tension, and feeling a lot better. But consider this: Which is more relaxing, staying home, or going out?
At Home Massage allows clients to relax immediately prior to, and after, a massage therapy session. There is also the added benefit of not having to put on makeup, get in the car, drive, park, wait in the spa waiting area, and then repeat in reverse, sans the waiting area and makeup application, of course. And if you're a guy, you only save on the makeup.
At Home Massage also saves you time, whereas driving back and forth to the spa wastes it. In today's world, families and work and responsibilities usually outweigh a trip to the spa, if there is a time constraint. And consider this: If you live fifteen minutes from your local spa, how much time does getting ready, driving, and driving back really take? Next time you go, time yourself and see.
A one hour session at the spa invariably requires us to devote far more than an hour to a massage session out of our precious daily schedule. An At Home Massage session does not. But most clients enjoy the privacy and sense of ease that only comes with being in one's one space. Our homes are the places we spend most of our time when not working or socializing. We feel most comfortable at home, and that makes a significant difference.
Why allow the traffic or traffic lights the chance to get you feeling restless or stressed? Driving is usually fun, but sometimes can be the opposite. And if you opt for a session using massage oil, wouldn't you prefer to be able to shower immediately after the therapist leaves? Having to put on clothing after an session with massage oil at the spa is one of the worst feelings. And although only some men may care, I'm sure all the ladies reading know that oil can (and often does) ruin clothing. Enough said.
Your time and comfort are most precious. We appreciate that, and so we at Mountainside On Site Massage Therapy offer Therapeutic Massage to our clients in New Jersey, as well as NYC. When we first started out, over ten years ago, we didn't even use the Internet. Our clients appreciated being able to relax at home, and over the years, At Home Massage has grown steadily in popularity.
On our web site, you will find a full description of the services we offer. At Home Massage Therapy sessions may be booked and paid for the online. Click on any of the categories in the column to the left of this text to go to a specific area, or choose from the list below:
Over the years, our web site has grown with us. Browse the different pages to find a variety of coupon codes located at the bottom-right hand corner. (There are also other codes available on our FaceBook account, as well as on our blog on njmassage.info and other web-logs, and other sites on the Internet.) The coupon code on this page is an especially valuable one; you will not find it ANYWHERE ELSE online!
We also have an ever-growing section dedicated to the topic of Massage Therapy and Health. Read articles and browse one of the largest online indexes on Earth of Massage Study Abstracts linking to real studies performed at real universities in the US.
NJMassage.Info also features a blog with interesting articles. Our blog deals with topics that include Massage & Health, Massage & Society, as well as other subjects of interest related to Massage Therapy. The blog is geared toward the general Internet reading public, and not massage therapists, although massage therapists may find the articles equally interesting.
Please email, or call 877 480 8038 for more information, or to book an appointment.
Cash, PayPal, Credit Cards, and Gift Certificates accepted. Insurance plans accepted: County / Municipal Health Care Plans (NJ), Independent Health Flex Fit, Preferred Care, No-Fault with Authorization
Note: We offer *strictly* therapeutic massage therapy. We do *NOT* offer as€nsual u'massage', in any form.